Flower Bath Magic. Self-Love Ritual for the Body, Mind & Spirit.
Spring is here! So that means there is a lots of flowers blooming everywhere and that's perfect not just for bees and humming birds but also for flower-bath lovers. Bathing in water infused with the goodness of plants, flowers herbs or essential oils and other healthful ingredients is a lovely, healing way to care for yourself or another and experience some self-love.
Bath recipes have been prescribed for thousands of years to detox, relax and nourish the body, mind and soul. There are even bath recipes for manifesting, hang over cures and for steaming up your love life. But I first learned about the healing power of flower-baths on my very recent twelve day jungle retreat in the Amazon Rainforst in Peru. I am actually still feeling the wonderful effects of the incredible natural treatments with all sorts of jungle plants and flowers that were used for elixirs and baths and I am excited to share more about this lovely ritual with you.
[dt_quote]
"The way to health is to have an aromatic bath and scented massage every day" ~ Hippocrates
[/dt_quote]
Flower therapy has been part of many ancient traditions. You might have heard of the traditional ritual of a flower bath "Siraman" which in Javanese culture is considered able to wash away bad luck and restore positive energy. The flower bath can be part of a wedding ceremony or be used to help heal people who are ill.
However, the place of flower baths in holistic healing traditions around the world goes beyond this kind of local belief. You might have heard that flowers can have therapeutic effects, but what you know is probably based only on how their colors can refresh your mood or their scents relax you.
The miracle of flowers, however, is more than that. The theory is that, just like other living things, flowers have a natural energy – or chi. The natural energy of flowers is positive – uplifting, loving and healing; this is what flower essence therapy offers.
According to the Peru's indigenous people and other indigenous groups around the world, flower essences work at a vibrational level and possess the power to elevate our physical vibrations, bringing our body and soul into harmony.
Unlike aromatherapy, which works at the physical and emotional levels, Tom said flower essence therapy can go deeper and operate at the mental and spiritual levels.
Therefore, this therapy is an alternative to psychotropic medication in the treatment of daily stress, depression, mood concerns, fears, anxieties and other emotional issues. Unhealthy emotional issues are the "core element of disease", treating these "inner problems" can help deal with physical illness.
I'll be sharing a lot more details, history and facts about flower bath theraphies and recipes in the upcoming online ART OF SELF LOVE COURSE. But for now, I will at least share some simple ways you can create your own flower bath at home.
How to prepare your own self-love magic flower bath:
I'm sharing with you bath recipes to rejuvenate your physical, mental or emotional well being. This tool enhances your Self-Love and Self-Care practice in the shower by taking it to another level. It's no woo-woo. The floral water actually cleanses your energy body.
1. Choose Your Flowers and Set A Clear Intention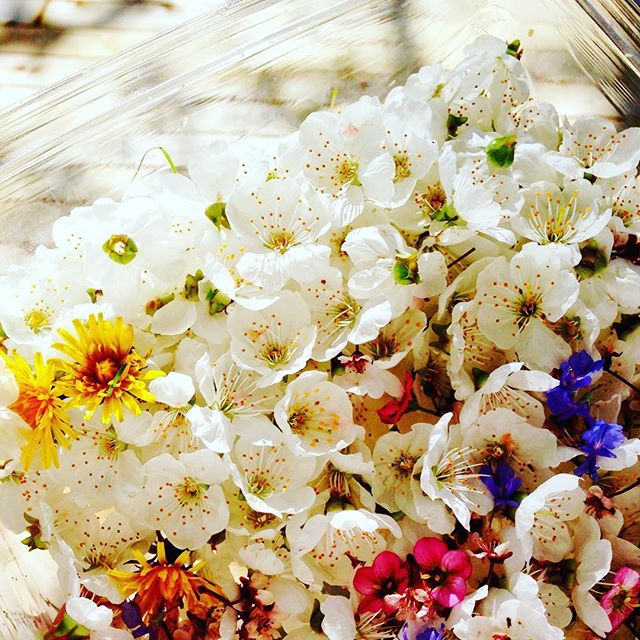 If you have access to fresh flowers, I encourage you to head outside and harvest them with your good intentions in mind. Use a positive statement like thank you or I love you with gratitude and blissful emotion.
If you are reading this during winter time or you happen to live in a snowed in land somewhere, you obviously may not be able to find fresh flowers. No worries though, because you can always use dried flowers. But remember when using dried flowers you still rip them up in water while saying your intention.
2. Making Your Flower Bath: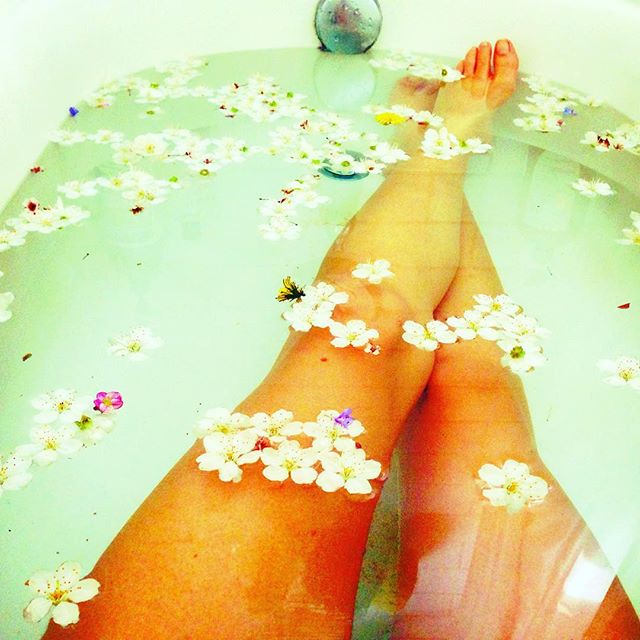 Take your fresh flowers and pull the petals off the stems breaking them up into a bowl with water. Keep saying your positive intention as you put the flowers in the water.
If you can, put your bowl of flowers in the sun for at least 2 hours, but bring it in before the sun sets. If you are making a moon ceremony bath you can put the flowers out under a moon light for the night.
Bring your flower bowl inside and prepare for your bath. (You may strain the flowers from the water if you don't want them getting stuck in your hair and you can also store the flowers for the bath in a glass jar in the refrigerator to preserve it).
Performing the Ritual – Pour the water over your head and in the air around and above you while you recite your intention. It's very healing to do this outside in the sun because the water droplets catch the sun and make little rainbows all around your energy body. If you can't be outside, you can use it in the bath by throwing it up in the air around your body.
If you can't be outside, you can use it in the bath tub. Performing a Bath Ritual – Set up a calming environment around your bath tub with some candles and relaxing, meditation music. Throw the flowers in the water around you and onto your body and recite your intention again.
Relax into the flower power healing and enjoy your love-bath for as long as you wish.
It is recommended to let the water from the flower bath to air dry on your body and wait at least two hours before completely washing it off or using any soap or shampoo.
[dt_banner type="image" text_color="#ffc9c9″ animation="fadeIn" bg_image="http://artofselflove.com/wp-content/uploads/2016/03/roses_flowers_buds_colorful_beauty.jpg"]
Love Yourself (Self-Love) Bath Recipe:
When things aren't going your way, some days all you need is love. Open your heart chakra and invite more love into your body. This bath will encourage you to think less from the head and more from the heart.
A good piece of rose quartz crystal
6-8 drops of rose essential oil
Rose water to spray onto your face
Mantra for you to repeat whilst soaking in the bath: "Every cell in my body is loved and healthy".
Optional extras: Organic dark chocolate, fresh rose petals if you happen to have a rose bush or treat yourself to a bunch. Love songs on your mp3 player.
[/dt_banner]
I hope you enjoyed learning another great tool for self-love and a new way to love and take care of yourself and your family naturally with herbal remedies! If you have any questions, el free to contact me.
With love & gratitude,